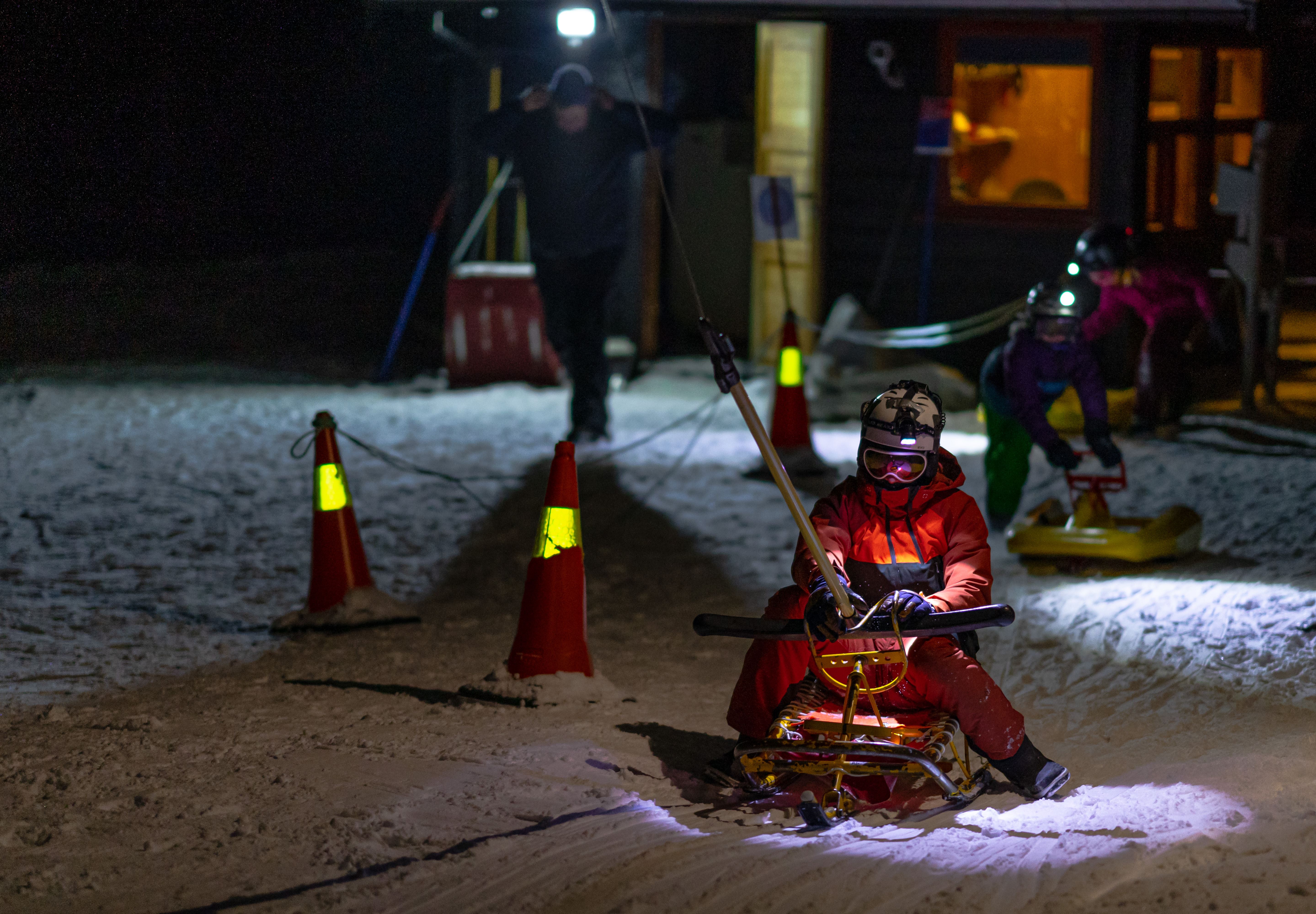 Lift-based night sledding - action on the toboggan run
Whiz down the slope in the darkness with a powerful headlamp.From 12 years or 10 years if the child is accompanied by an adult - An excellent playground for children and adults.
Information:
Duration: 2 hours
Price includes: Rental (sledge, helmet, goggles, headlamp) and ski pass
Agelimit: 12 years or 10 years if the child is accompanied by an adult
Bring: Warm winter clothes, we recommend waterproof trousers, good mood and preferably a group of friends. If you want, you can bring your own googles and helmet, but it is not necessary. We have glasses and helmets in all sizes and the rental is included in the price.
Meeting place: Dagali Fjellpark, Perstulvegen 100, Dagali (ca. 25 km from Geilo). NB: Please meet up 15 minutes before the activity starts.
Contact information: [email protected], +47 90622675 or www.dagalifjellpark.no
Try the 1850 meter long sledge track in Dagali Fjellpark! On a good lead, the sledge can reach a speed of 70km/h! Since the speed can be so high we have set an age limit of 12 years on the basins, 10 years for children who come together with an adult. For safety reasons, there may only be one person per sledge. The lift takes you up to the top where the squiggly track waiting to give you an exhilarating experience. You do not need to be a child to have fun in the toboggan hill.
Dagali Fjellpark supports the local community in Dagali, especially Dagali sti‐ og løyelag (through Dagalifjellets Vel), which takes care of ski tracks in the Dagali area (160 km prepared ski tracks). 5 NOK from any ticket, purchased during the winter season at Dagali Fjellpark, is sent to Dagali sti‐ og løyelag in support of their work on the ski tracks at Dagalifjell.